Article
Baddaku
Redactor
S*anje u eHR (Military)
Posted 5 years ago by
Baddaku
Report
Dragi njabovi i njabovice,
odlučija san danas malo van napisat kakvo je stanje u Hrvatskoj i svijetu. Mislin da je čak ovo prvi nekakav takav članak od reseta. S obzirom da san trenutno MoD i vSC u savezu pisat ću o vojnom aspektu i kako Hrvatska danas kotira u savezu. O ostalim stvarima neću pisat jer ne ulazin u Org, a i nije moj posal nego ministra ekonomije.
Pa krenimo.
Reset i počeci



Hrvatska je nakon reseta bila jedna od aktivnijih zemalja i kroz prvi misec dana smo bili u top5 zemalja po dmgu. Vrlo rano smo osvojili bosansku High regiju i počeli su neki planovi o daljnjem napredovanju. Cilj je bila Slovenija ili Grčka prema jugu. na kraju se dogodilo da su nas Grci napali i vođen je ping pong rat više zbog toga što osim Mađara nismo imali neku pomoć saveza. Inače odma 1. dan smo promjenili savez u kojem smo bili prije reseta te smo ušli u SoF savez na poziv Mađara. Naravno u savezu nam nisu nešto vjerovali prvenstveno zbog toga što nismo tili tuč kontra Srba koji su vrlo rano zauzeli dvi tadašnje članice saveza. Zbog toga svega se i dogodija ping pong rat sa Grcima jer mi nismo dobivali pomoć osim od Mađara, a Grci nisu dobivali pomoć od Srba da bi mogli napadat. Ping pong rat je brzo dosadija, ekipa je gubila interes, a nas je i s druge strane napala Italija di je usljedija konačan pad i brisanje od strane talijana i grka. U tom ratu smo se dosta iscrpili, ali smo dodavanjem novih zemalja Crne Gore i Albanije izgubili granicu sa Grcima, te smo se uspili oslobodit i kasnije opet zauzet bosansku high regiju. Nakon toga smo se posvetili više jačanju ekonomije i pomaganju savezu koji je napokon stekao povjerenje u nas, ali se nedavno raspustija i osnovan je novi savez Hydra.
Trenutni savez



Trenutačni savez je Hydra u kojem se nalaze Hrvatska, Srbija, Njemačka, Mađarska, Brazil i Iran. Hrvatska je dosta utjecajna i cjenjena u savezu i zapravo prvi puta od kad uopće igran ovu igru iman dojam da u savezu ozbiljno računaju na nas, a ne na neku zemlju koja je tu čisto zato jer je neka druga jača zemlja (najčešće Srbi i Mađari) to tražila šta je prije bija čest slučaj. Situacija je takva najviše zbog toga šta dajemo dmg u skoro svim bitnim bitkama za razliku od prije kad smo ugl veliki dmg udarali samo za Srbe ili Mađare. Tako da u savezu lipo kotiramo i sigurno možemo očekivat pomoć ako bi išli u vojne pohode.
Hrvatska vojska i trenutno stanje.



Hrvatska trenutno ima 2 MUa (HOS i SFFA) koji su u top 50 svjetskih MU. SFFA je nakon reseta zasija na mjesto top 10 MUa (trenutno 8.) i primjer je aktivnosti kakva nam triba za ikakvo napredovanje. Tuče se redovno di god je savezu potrebno, nerijetko i bez ordera. HOS (trenutno 39.) je drugi MU koji radi veliki dmg na koji možemo računati, ali za razliku od SFFA nemaju toliku aktivnost i uglavnom se puca voljno, ali svoj dmg pošteno odrade. Trenutna situacija je da smo dosta neaktivna država, i da bi se pokušali širit tribali bi i aktivniji HOS, al i vas civile koji bi dolazili na chat po ordere, otuč po potribi. Ne triba se visit na chatu, al neki minimum da se provjeri order i jel triba di otuć, reda radi. Šta se samog napada tiče, imamo neke planove i potporu saveza, al teško će se nešto veliko pokrenit dok god smo neaktivni i ne dobijemo pomoć od civila. Ako krene ikakav rat u budućnosti tribat ćemo svaku vašu pomoć.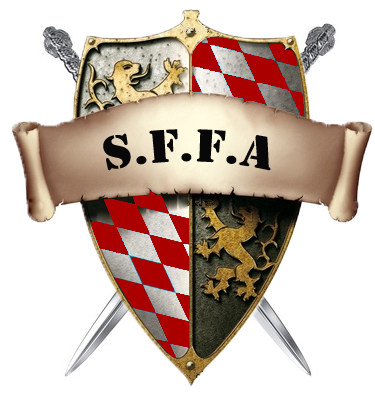 Šta se državne vojske tiče u SFFA su uvijek svi koji su spremni se aktivirat dobrodošli. Oprema je redovna 85q1wep + 15q5food, s tim da ako želite dodatnu opremu možete od MU-a kupiti pakete koji su 50% jeftiniji nego na #strade ili marketu.
To je više manje sve. Još san neke stvari tija pisat al san i ovako preglup za nešto osin ako je zaj*bancija. Tako da za kraj najavljujen skori novi intervju ovaj put sa nekin ozbiljnim temama
Previous article:
Interview with CheGuevara
(5 years ago)
Next article:
Introduction
(5 years ago)
About the game:
USA as a world power? In E-Sim it is possible!
In E-Sim we have a huge, living world, which is a mirror copy of the Earth. Well, maybe not completely mirrored, because the balance of power in this virtual world looks a bit different than in real life. In E-Sim, USA does not have to be a world superpower, It can be efficiently managed as a much smaller country that has entrepreneurial citizens that support it's foundation. Everything depends on the players themselves and how they decide to shape the political map of the game.
Work for the good of your country and see it rise to an empire.
Activities in this game are divided into several modules. First is the economy as a citizen in a country of your choice you must work to earn money, which you will get to spend for example, on food or purchase of weapons which are critical for your progress as a fighter. You will work in either private companies which are owned by players or government companies which are owned by the state. After progressing in the game you will finally get the opportunity to set up your own business and hire other players. If it prospers, we can even change it into a joint-stock company and enter the stock market and get even more money in this way.
In E-Sim, international wars are nothing out of the ordinary.
"E-Sim is one of the most unique browser games out there"
Become an influential politician.
The second module is a politics. Just like in real life politics in E-Sim are an extremely powerful tool that can be used for your own purposes. From time to time there are elections in the game in which you will not only vote, but also have the ability to run for the head of the party you're in. You can also apply for congress, where once elected you will be given the right to vote on laws proposed by your fellow congress members or your president and propose laws yourself. Voting on laws is important for your country as it can shape the lives of those around you. You can also try to become the head of a given party, and even take part in presidential elections and decide on the shape of the foreign policy of a given state (for example, who to declare war on). Career in politics is obviously not easy and in order to succeed in it, you have to have a good plan and compete for the votes of voters.
You can go bankrupt or become a rich man while playing the stock market.
The international war.
The last and probably the most important module is military. In E-Sim, countries are constantly fighting each other for control over territories which in return grant them access to more valuable raw materials. For this purpose, they form alliances, they fight international wars, but they also have to deal with, for example, uprisings in conquered countries or civil wars, which may explode on their territory. You can also take part in these clashes, although you are also given the opportunity to lead a life as a pacifist who focuses on other activities in the game (for example, running a successful newspaper or selling products).
At the auction you can sell or buy your dream inventory.
E-Sim is a unique browser game. It's creators ensured realistic representation of the mechanisms present in the real world and gave all power to the players who shape the image of the virtual Earth according to their own. So come and join them and help your country achieve its full potential.
Invest, produce and sell - be an entrepreneur in E-Sim.
Take part in numerous events for the E-Sim community.