Article
★

xNetanel
Redactor
Wolfpack [Updates] (Political)
Posted 5 months ago by
★

xNetanel
Report

Hello Everyone,
Due to RL reasons, I decided to resign from my spot as SC, as I won't have enough time.

★

Psychosocial will be the one in charge now.

So, Here's a quick look at the HQ again: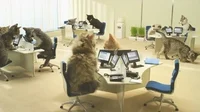 MACEDONIA JOINED THE PACK! WELCOME MACEDONIA!



WolfPack's Current Members:
Romania, Bulgaria, Ukraine, Denmark, Turkey, Israel , Macedonia.




Our new and official logo ( Thanks
★

D A V I D )


(Don't worry about Denmark, They're still with us)




Thanks for reading,

Previous article:
The Wolves Are Back!
(5 months ago)
Comments not allowed.