Article
★

Helyey
Redactor
Négerek és Magyarország (Political)
Posted 5 years ago by
★

Helyey
Report
Netezés közben néztem egy filmet a tv-ben... találtam valamit, amin meglepődtem... a zászló a háttérben
Igen, jól látjátok. Martin Lawrence Gagyi lovag című filmjében egy magyar zászló van a háttérben. Mi ebben a különös? Nos az, hogy a filmben egy árva említés sincs a magyarokról. A filmet Fótott forgatták, ezért van ott a magyar zászló. A film amúgy 2001-es, tele erőltetett poénokkal. Aki szereti az ilyen humort annak mindenképpen ajánlom a filmet.
Rövid ismertető a filmről: Jamal a középkor hangulatát idéző minigolf-pálya alkalmazottja. A pálya nemcsak a makett várak és lovagfigurák miatt tűnik ódonnak, hanem azért is, mert utoljára a középkorban renoválták. Egy szerencsétlen baleset után Jamal döbbenten veszi tudomásul, hogy a XIV. századi Angliában van, ahol hős lovagnak nézik. A jövő kelekótya hírnöke szövetkezik egy lánnyal és egy lezüllött exlovaggal, hogy megdöntsék a gonosz Leo király hatalmát.
Van egy másik híres néger színész is aki Magyarországra látogatott. Ott azonban ez említve is van. Ez a színész nem más mint Eddie Murphy az Én, a kém című filmben.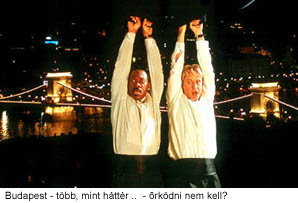 A film nagy részét Budapesten forgatták. Eddie Murphy és Owen Wilson ártalmatlan akciókomédiájában szemben a legtöbb nálunk forgatott amerikai filmmel, Budapest kivételesen saját magát játssza. Üdítő néha külföldiek szemén keresztül nézni a fővárosunkat: egy magyar rendezőnek biztosan eszébe se jutna olyan szentségtörés, hogy lelövöldözze a Nemzeti Galéria homlokzatdíszeit, pedig ez valahol azért menő húzás. Elég sok magyar szót hallani a filmben, de a láthatatlan vadászrepülő felkutatására Budapestre érkezett két főhőst pechjükre nem részesítették gyorstalpaló magyar tanfolyamban, így nem értik azt sem, amikor a Gellért fürdőben egy bajszos muksó figyelmezteti Murphyt, hogy "vigyázz a törölközőkkel!". Rékasi Károlynak szöveges cameója van: a Budavári Palotában rendezett partin alapos biztonsági embert alakít, aki meleg kézszorítással üdvözli a híres bokszolót (Murphy), akinek hatalmas rajongója, ellenben az ismeretlen titkosügynököt (Wilson) nem akarja beengedni.
Rékasi biztonsági őrként
Ezzel a kis cikkel biztatni akartam az országot, hogy lássák: a négerek velünk vannak! Mindent bele és mutassuk meg a szerbeknek meg a szlovéneknek, hogy ki az úr a háznál! Ha tetszett akkor örülök a subnak meg a votenak is. Ha nem tetszett akkor is nyomhatsz egyet
Previous article:
Megtörtént eset!
(5 years ago)
Next article:
Letészem a lantot
(5 years ago)
About the game:
USA as a world power? In E-Sim it is possible!
In E-Sim we have a huge, living world, which is a mirror copy of the Earth. Well, maybe not completely mirrored, because the balance of power in this virtual world looks a bit different than in real life. In E-Sim, USA does not have to be a world superpower, It can be efficiently managed as a much smaller country that has entrepreneurial citizens that support it's foundation. Everything depends on the players themselves and how they decide to shape the political map of the game.
Work for the good of your country and see it rise to an empire.
Activities in this game are divided into several modules. First is the economy as a citizen in a country of your choice you must work to earn money, which you will get to spend for example, on food or purchase of weapons which are critical for your progress as a fighter. You will work in either private companies which are owned by players or government companies which are owned by the state. After progressing in the game you will finally get the opportunity to set up your own business and hire other players. If it prospers, we can even change it into a joint-stock company and enter the stock market and get even more money in this way.
In E-Sim, international wars are nothing out of the ordinary.
"E-Sim is one of the most unique browser games out there"
Become an influential politician.
The second module is a politics. Just like in real life politics in E-Sim are an extremely powerful tool that can be used for your own purposes. From time to time there are elections in the game in which you will not only vote, but also have the ability to run for the head of the party you're in. You can also apply for congress, where once elected you will be given the right to vote on laws proposed by your fellow congress members or your president and propose laws yourself. Voting on laws is important for your country as it can shape the lives of those around you. You can also try to become the head of a given party, and even take part in presidential elections and decide on the shape of the foreign policy of a given state (for example, who to declare war on). Career in politics is obviously not easy and in order to succeed in it, you have to have a good plan and compete for the votes of voters.
You can go bankrupt or become a rich man while playing the stock market.
The international war.
The last and probably the most important module is military. In E-Sim, countries are constantly fighting each other for control over territories which in return grant them access to more valuable raw materials. For this purpose, they form alliances, they fight international wars, but they also have to deal with, for example, uprisings in conquered countries or civil wars, which may explode on their territory. You can also take part in these clashes, although you are also given the opportunity to lead a life as a pacifist who focuses on other activities in the game (for example, running a successful newspaper or selling products).
At the auction you can sell or buy your dream inventory.
E-Sim is a unique browser game. It's creators ensured realistic representation of the mechanisms present in the real world and gave all power to the players who shape the image of the virtual Earth according to their own. So come and join them and help your country achieve its full potential.
Invest, produce and sell - be an entrepreneur in E-Sim.
Take part in numerous events for the E-Sim community.