Hello Admin, Hello All friend.
Today I hear a information that "anyone who cannot pay the wage to his worker by daily, he will be fined".
one of my friend was fined 300g by LTL GO
Untanelis
because he has not pay wage by daily.
I am surprised because some of the worker wants to get the wage by Q5 house or Q5 est.
So i just come to the IRC to ask GO to confirm this.
Our new GO
MatthijsM
served me.
Our conversation as below: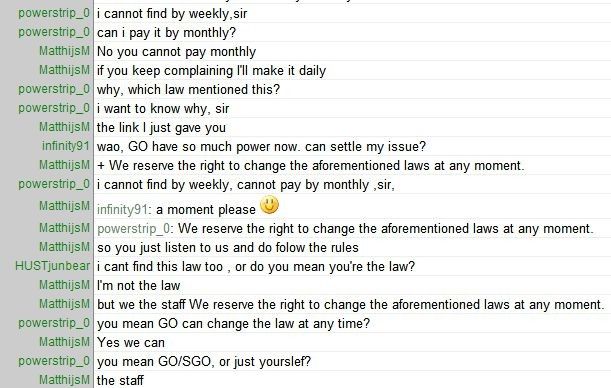 I am surprised that Mr MatthijsM told me the law is pay by weekly, but if i still ask him about this, he will change the law to paid by daily.
Key sentence:
Me: Can i pay it by monthly?
MatthijsM: no you cannot pay monthly
MatthijsM: If you keep complaining i'll make it daily.
I am so surprised that a GO can change the law at anytime.
And he also asked me why my equipment is so good. why someone donate me some gold.(actually it is Admin donate the bonus gold to my mentor and my mentor transfer the gold to me).
I don't know why he ask me and investigate me? just because i questioned him?
I am shocked and i am afraid the E-sim rule and world will be broken by some of the GOs.
At the same time, 1 of our eChina MU were banned without any reasonable reason(the MU is un-banned by SGO now)
refer to
http://primera.e-sim.org/article.html?id=79336
and
These issue happened after we hit LTL in Poland vs LTL battles.
http://primera.e-sim.org/battle.html?id=12219&round=7
We need justice, we don't need a rule/law which can changed by a GO at anytime.
The GO should work for e-sim, not work for your country.
中文版本:
今天我们有人被LTL新的GO罚款了,GO要求我们每天按时给团员发工资.
我们去IRC跟他理论
结果他跟我说
你得按周来给工资(原来不是说不按日给就罚款吗?就这么罚的我们团长)
你要是再纠结我,我就让你按日结
真是牛鼻阿 ,E-sim的法律随口改的.
接着他问我你装备怎么这么好啊,怎么那个moyan d gold给你呀? (其实是上线反金)
我擦,因为我问他问题他现在来调查我了,这算是威胁我住嘴吗?
天理何在,公正何在.
我就不信E-sim里所有人都是每日d工资,不d就罚款
Next article:
生肖羊团招新启事(Zodiac Sheep Recruitment)
(8 years ago)