Article
Getulio Vargas 2
Redactor
Candidatura à Presidência da Nação (Political)
Posted 4 years ago by
Getulio Vargas 2
Report
Trabalhadores do Brasil

Após uma temporada que permaneci na Espanha, fora de quaisquer cargos políticos, anuncio- vos que retorno a pleitar a Presidência do Brasil. Apesar deste recesso, não deixei de frequentar, fazendo-o esporadicamente, o IRC brasileiro, acompanhando, assim, muitas coisas que ocorriam por cá.

Assim, volto a intentar chegar à Presidência para a retomada de certos aspectos, benéficos à Nação, além de buscar novas abordagens no que demandar. Apresento-lhes, portanto, a base da Administração para o próximo mês:




Equipe de Governo:

Certos nomes já são conhecido pelo trabalho, tanto em minha administração, como em outras.

Presidente da República Federativa do Brasil:
Getulio Vargas 2 ;

Vice Presidente da República:
daviportela98 ;

Secretário Geral da Presidência:
★

Fendrick ;

Ministro da Economia:
daviportela98 ;

Ministério da Defesa:
varofakis ; e

Secretário de Defesa:
BrucePD . *


* Estará no auxílio de assuntos da defesa, com os secretários escolhidos a encargo.






Projetos idealizados em suma:

Política Externa e Militar:

No meu último Termo, deixamos a grande Aliança UNITY, que, desde muito, o Brasil era parte. Adentramos em outra Aliança, aHYDRA 2.0, da qual o Brasil foi parte, também, em sua primeira organização.
Apesar de muitos não compreenderem a postura do Governo, buscamos um novo posicionamento no cenário internacional e reativar nossa população, por meio de Guerras. Este objetivo foi alcançado de certa forma, onde iniciamos uma campanha conjunta com Portugal- também dissidente da Unity- que nos levou à Conquista, em mais de uma ocasião do Grande Ocidente e Île-de-France , na Guerra Franco-Brasileira.

Nas últimas Batalhas, precisamos defender o Norte do Brasil, uma vez que a balança de poder pendia para o lado Francês. Em detrimento disto, é preciso reestruturar o Exército, como sempre, uma área complexa e em grande necessidade. Nós buscaremos estimular mais jogadores- que cumpram os parâmetros de recrutamento- a juntarem-se às Forças Armadas, executando novo modelo, diferente do convencional, para que se seja um soldado.

Por fim, vamos assegurar a boa Diplomacia que sempre trabalhamos para ter, com alguns aliados de longa data, como Portugal, Espanha, Canadá e Alemanha, e outros mais recentes, tais como Grécia , Hungria e Croácia. Já desenvolvemos laços com estas nações, que pretendemos manter e assegurar maior hegemonia, do Brasil, no Contexto internacional.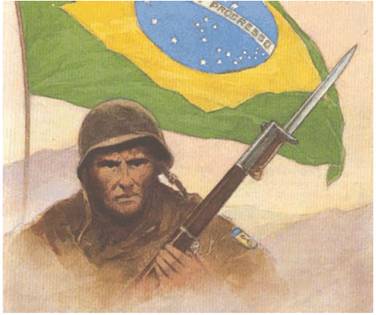 Economia:

Para sintetizar tal artigo, vamos buscar manter a estabilidade monetária, como em todos os outros Governos Getulistas. Buscaremos o rácio constante de 0,06 Gold , com as pequenas variações, naturais, sendo corrigidas de maneira sustentável, evitando a necessidade de impressão da moeda. A última impressão, de 22 000BRL foi mantida por 6 meses- 5 desses nossa administração- havendo em apenas um mês, recentemente, a necessidade de alta quantia de BRL impresso e isto causa certos transtornos à Economia.

Desta forma, buscaremos garantir o progresso da nação, seguro, sem demandar instabilidades para que se corrijam erros.




Portanto, peço-lhes mais uma oportunidade para ascender à Presidência, mantendo o bom trabalho de toda a equipe de Governo.

Obrigado a todos!


"
Hoje estais com o Governo. Amanhã sereis Governo
Previous article:
Candidatura à Presidência.
(4 years ago)
Next article:
Apresentação de Candidatura- Rumo à apoteose!
(3 years ago)
About the game:
USA as a world power? In E-Sim it is possible!
In E-Sim we have a huge, living world, which is a mirror copy of the Earth. Well, maybe not completely mirrored, because the balance of power in this virtual world looks a bit different than in real life. In E-Sim, USA does not have to be a world superpower, It can be efficiently managed as a much smaller country that has entrepreneurial citizens that support it's foundation. Everything depends on the players themselves and how they decide to shape the political map of the game.
Work for the good of your country and see it rise to an empire.
Activities in this game are divided into several modules. First is the economy as a citizen in a country of your choice you must work to earn money, which you will get to spend for example, on food or purchase of weapons which are critical for your progress as a fighter. You will work in either private companies which are owned by players or government companies which are owned by the state. After progressing in the game you will finally get the opportunity to set up your own business and hire other players. If it prospers, we can even change it into a joint-stock company and enter the stock market and get even more money in this way.
In E-Sim, international wars are nothing out of the ordinary.
"E-Sim is one of the most unique browser games out there"
Become an influential politician.
The second module is a politics. Just like in real life politics in E-Sim are an extremely powerful tool that can be used for your own purposes. From time to time there are elections in the game in which you will not only vote, but also have the ability to run for the head of the party you're in. You can also apply for congress, where once elected you will be given the right to vote on laws proposed by your fellow congress members or your president and propose laws yourself. Voting on laws is important for your country as it can shape the lives of those around you. You can also try to become the head of a given party, and even take part in presidential elections and decide on the shape of the foreign policy of a given state (for example, who to declare war on). Career in politics is obviously not easy and in order to succeed in it, you have to have a good plan and compete for the votes of voters.
You can go bankrupt or become a rich man while playing the stock market.
The international war.
The last and probably the most important module is military. In E-Sim, countries are constantly fighting each other for control over territories which in return grant them access to more valuable raw materials. For this purpose, they form alliances, they fight international wars, but they also have to deal with, for example, uprisings in conquered countries or civil wars, which may explode on their territory. You can also take part in these clashes, although you are also given the opportunity to lead a life as a pacifist who focuses on other activities in the game (for example, running a successful newspaper or selling products).
At the auction you can sell or buy your dream inventory.
E-Sim is a unique browser game. It's creators ensured realistic representation of the mechanisms present in the real world and gave all power to the players who shape the image of the virtual Earth according to their own. So come and join them and help your country achieve its full potential.
Invest, produce and sell - be an entrepreneur in E-Sim.
Take part in numerous events for the E-Sim community.