To the savvy new player it should not be hard to reach level 7 in 3 days. Personally, and at my own expense I got a friend I invited to level 7 in a matter of hours.
This is a comprehensive guide for any new players, and certainly a few 'experienced' players.
So you've signed up.
You've entered into the game.
You haven't confirmed your e-mail.
Before doing anything else you should check your e-mail for a message from e-Sim. No need to read it, just click the circled link: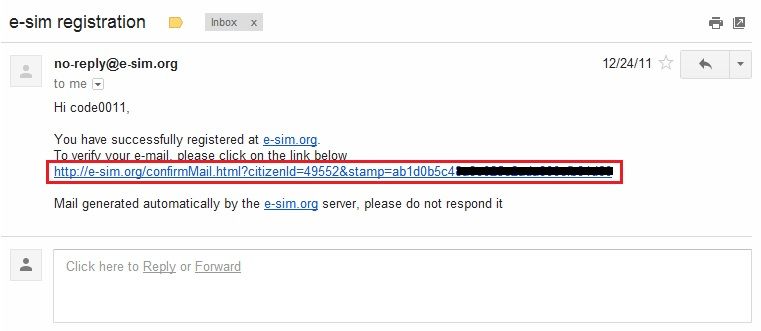 -----
Now you've confirmed your email you need to complete your daily tasks.
First up is training.
There are a variety of different ways to get to the training page, where you can train and look at your total damage and influence per hit.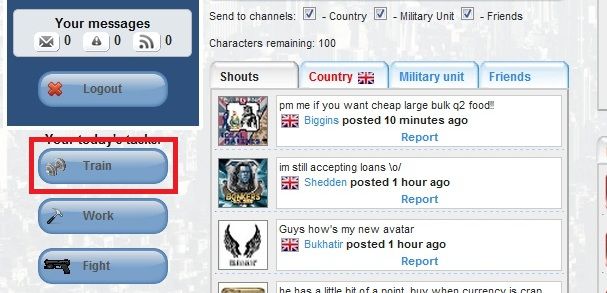 Protip: these pictures are links
Click the train button:
And you have successfully completed your first training session.
Moving on swiftly, working.
To work you must first get a job, and you can do that by clicking this link: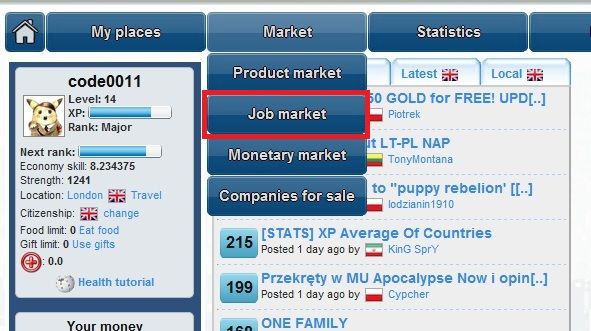 and then clicking the top result: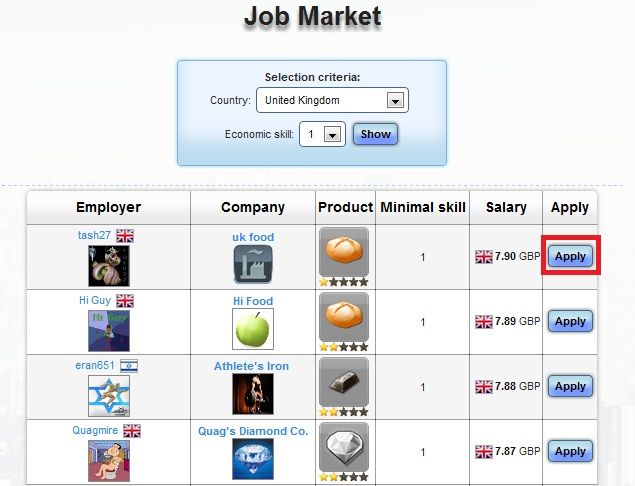 To work you can click the 'work' button, which is situated here: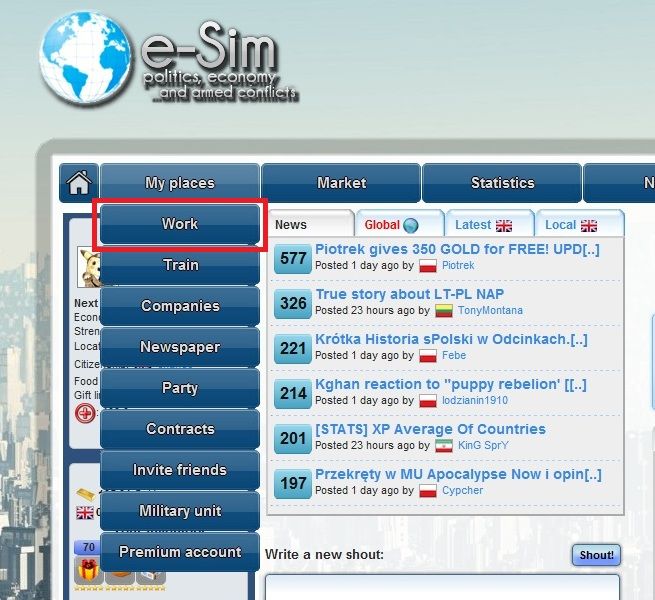 Or, you can go here, and click 'work'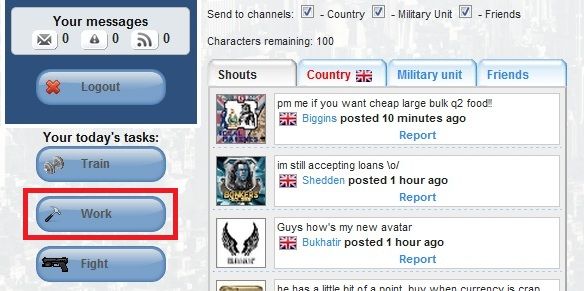 Followed by this conveniently labelled link: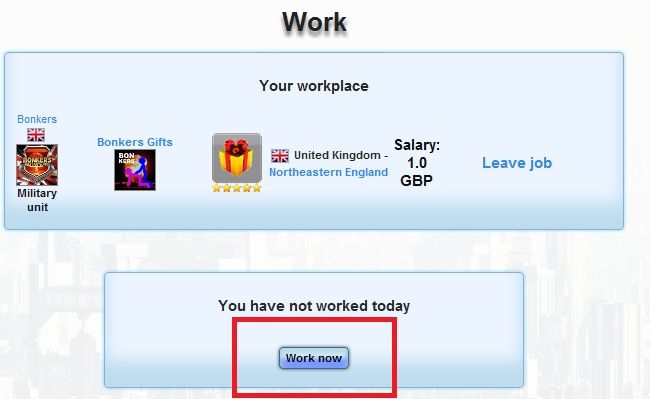 Now you have successfully worked and trained it is time to fight!
To fight, you need food. Here in the UK there are a few convenient ways to get food and gifts, which can also be used when fighting.
First is the
Bewbs4Fewdz!
thread on the
eUK Forums
. You will need to make an account there to claim food.
Another way is the
MoHA Goody Bags program
. Read the linked article for more information.
If you don't feel like using either of those two programs, you can use that money you earned earlier to buy food from the
Product Market
, which can also be accessed as shown in this picture: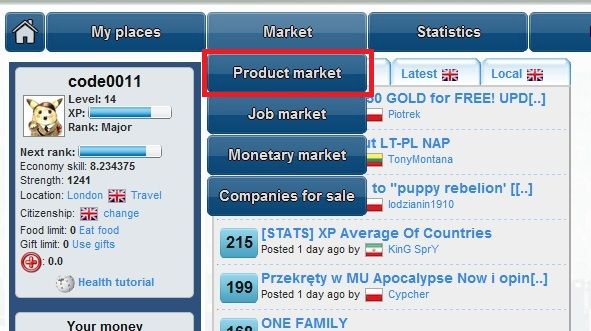 Click the food icon, followed by selecting Q3. Type 10 into the circled box and click buy. If you do not have enough money simply put 9 in the box instead.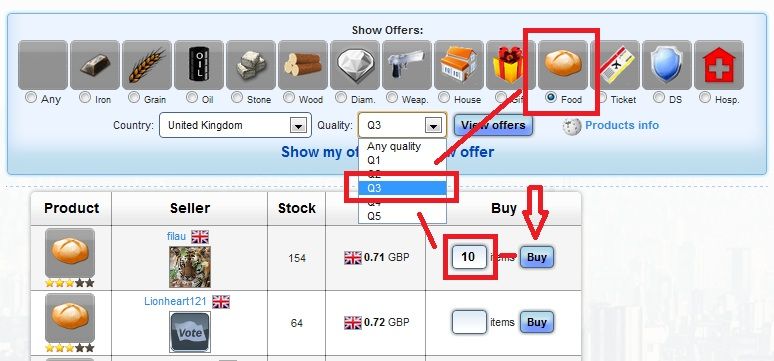 Now you have food, you need to fight.
Go to the homepage and look to this box and click the name of a battle: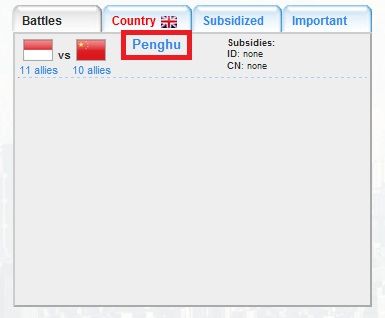 Example is circled
Once on the battle screen, don't be confused. It is fairly simple, and will be covered at a later date.
The only thing you should look for is this: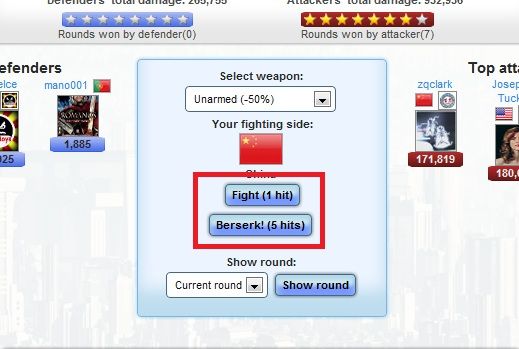 Click berserk twice, clicking this button after each fight: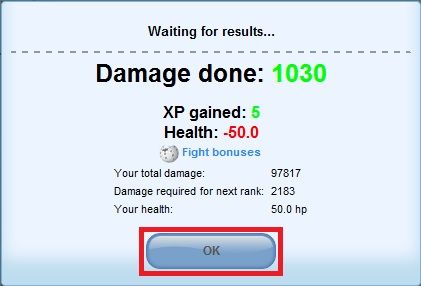 You now have no health. Look to the task-bar to the left of your page, and click 'Eat food'
Until you have full health, or as close to as you can with the food you have: Q1 gives 10 health, Q2 20, Q3 30 etc...
Continue to fight until you have no food left and
50 HEALTH
. This is because you gain 50 health at day change.
Congratulations, you've done all you can do on your first day. That wasn't too hard, was it?
Now all that's left to do is relax, go outside (:o) or you can come and join us on IRC, by following this link:
SHAPOW!
Thank-you for reading, and don't forget to vote and subscribe.
code0011
next article:
How To Make Gold
(1 year ago)