There is currently 43/50 positions filled within the British Army with 4 applicants awaiting approval so technically there is only
3 positions left.
These final positions will be filled with only the most worthy of candidates to bring our national MU to it's capacity.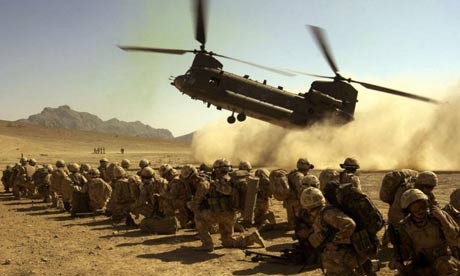 Better hurry, the last Chinook will leave with or without you..
------------------------------
For those of you who are currently employed by the Ministry of Defence already here's a wee update of happenings gone and coming up.
- During Ranflax' term we upgraded all of the raw companies from Q3 > Q4 giving us a much needed boost to our production levels.
- Canada East Coast was yet again set to a Resistance War status twice by means of the Polish having far too much gold to waste, and wasted so it was. - CEC was, as to be expected held without any kind of struggle.
However
we did lose 4 rounds 7 days ago destroying two Q3 DS and one Q4 DS which was rather unfortunate since we were all quite happily in bed at that time dreaming of Megan Fox covered in our claimed Canadian Maple Syrup.
Once we woke up and realized what was going on we quickly recovered from the down turn and put all the attackers back in their place.
Then we had Maple Syrup on pancakes to celebrate. \o/
-
DeathJester
was promoted to my Deputy Minister of Defence at the start of my last term and he has done a
fantastic
job keeping up with all the daily supply handouts and handling the running of the British Army in my absence. And I am proud to have him by my side for yet another term while we defend the United Kingdom and her Foreign Interests overseas.
Especially loved the rant at Bonkers/BH hunters for wasting 6 million damage. inb4rants in the comments section.
- Supplies have yet again been strained the last term where we unfortunately had to downgrade a wee bit to 10Q5 food daily and 10 Q4 Gifts every second day.
------------------------------
Closing statements;
We now have a new boss, Jon873, and from what I can divulge to the public, the Military Sector is going to get a healthy monetary boost.
Which will help with the planned upgrades to the supply chain, re-organisation of our infantry, more in the way of training and more. So look forward to that!
It has been decided we require an avatar border, or
uniform
if you like to put around you existing avatar. There has been a few suggested avatar but have yet to to come to a final version.
So what I need is a Photoshop wizard!
Now, I am a kind MoD.. where others would ask this freely from you, I am willing to offer
Gold
to the person who comes up with an avatar boarder which the majority agrees is awesome.
Some examples of the suggested avatars:
- By
Jon873
-

- By
★

Marshall
-

- By
CastoriousBG
Official BA Avatar thread
So if someone could work on that, It would be very much appreciated.
Finally, Cuddles and Kisses to everyone who's been involved over my last two terms as MoD, from all the PM'd suggestions, questions and basic communication both to and from me which have been welcomed with open arms.
Now lets do it again for yet another term..
------------------------------

-

-
-
-
The British Army - Providing Bewbs even though it's against the rules.
Previous article:
[MoD] Geez a Joab [Updated]
(1 year ago)
next article:
[MoD] Stepping down
(1 year ago)