Article
StuuuG
Redactor
Inicjatywa Wolnościowa - Inauguracja i cele! (Political)
Posted 4 years ago by
StuuuG
Report
Jak oceniasz szanse na wejście IW do TOP 5 partii?
Poland
71.42 %
Brak
19.04 %
Średnie
9.52 %
Duże
Total votes: 21
Inicjatywa Wolnościowa
Witam wszystkich bardzo serdecznie. Chciałbym zaprezentować nowy twór na sPolskiej scenie politycznej.
_________WSTĄP DO NAS JUŻ DZIŚ_________
Czym jest Inicjatywa Wolnościowa?

Inicjatywa Wolnościowa to nowa partia w e-simie skupiająca wszystkie osoby chcące uczestniczyć bezpośrednio w działaniach na najwyższym szczeblu w naszym wirtualnym kraju. Chcemy zrzeszać ludzi, którzy chcą wgłębić się w tajniki tej gry.

Jaki jest cel powstania nowej partii? Po co?

Głównym celem założenia IW jest pokazanie że da się wprowadzić nową partię do kongresu. Od kilku miesięcy partie z TOP 5 są niezmienne. My chcemy to zmienić. Chcemy osiągnąć TOP 5 i wprowadzić swoich kongresmenów do Polskiego kongresu. Mimo iż primera wymiera uważamy że jesteśmy w stanie ciężką pracą dobić TOP5.

No dobra i co dalej?

Kolejnym celem IW jest kształcenie tych osób, które chcą jeszcze uczestniczyć w życiu publicznym e-sima pod względem pracy w Ministerstwach i w sztabach oficerskich bojówek. Chcemy mieć silną kadrę, która potrafi zarządzać najważniejszymi podmiotami życia e-simowego.
_________WSTĄP DO NAS JUŻ DZIŚ_________
Cześć, jestem
StuuuG
aka Rapiz. Przychodzę dzisiaj z inicjatywą powołania nowej partii. Partii zrzeszającej osoby, które po mimo wymierania e-sima chcą jeszcze wspólnie osiągać jakieś cele. Swój cel jaki sobie postawiłem to dobicie liczby członków pozwalającej na wystartowanie w wyborach do kongresu. Mimo iż miałem dłuższą przerwę w e-simie, to teraz z powodu lekkiej nudy powracam i chcę wbić się w obecne TOP 5. W e-Simie w każdym kraju rację bytu mają tylko 5-6 partii. W Polsce nie zmiennie od kilku miesięcy mam 5 czołowych partii, a reszta to albo trollpartie lub partie osób, które nie wiedzą że do wystartowania w wyborach kongresowych potrzebne jest bycie w TOP 5. Moduł polityczny w e-simie jest po prostu zły.
Na Polskiej scenie politycznej od dawna jest sama nuda i rządzą te same osoby. Nie mam zamiaru opowiadać tu jaki beton jest zły i w ogóle. Bo nie jest. Polska jest rządzona dobrze. Czy można lepiej? Nie wiem. Chcę wprowadzić powiew świeżości, chcę sprawić by życie polityczne w e-simie znów było ciekawe, i żeby był realny wybór i pokazały się nowe twarze.
W e-Sima gram z przerwami od 220 dnia.
Moje osiągnięcia to między innymi:
- Minister Edukacji Narodowej,
- vice Minister Edukacji Narodowej,
- vice Minister Spraw Zagranicznych,
- vice Minister Obrony Narodowej,
- kilkukrotny Polski kongresmen,
- oficer wielu polskich bojówek.
Chcę pomagać osobom, które chcą zrozumieć tą grę i chcą się w nią w drożyć. Chcę stworzyć nową siłę polityczną.
Dołącz do mnie i......
_________TWÓRZMY RAZEM INICJATYWĘ WOLNOŚCIOWĄ!_________
Previous article:
Multikonta. Problem e-sima. Quo vadis e-sim? cz. 2
(5 years ago)
About the game: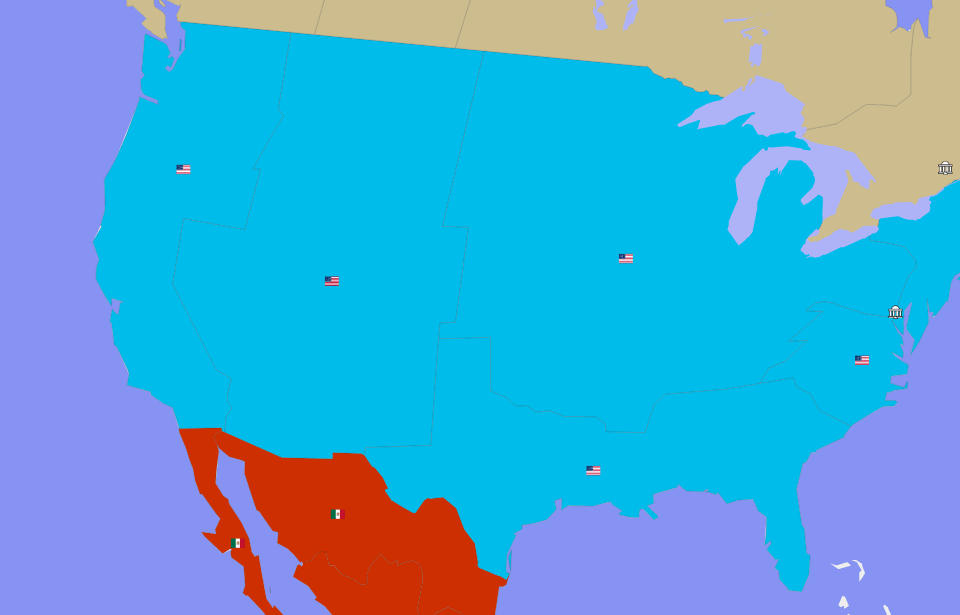 USA as a world power? In E-Sim it is possible!
In E-Sim we have a huge, living world, which is a mirror copy of the Earth. Well, maybe not completely mirrored, because the balance of power in this virtual world looks a bit different than in real life. In E-Sim, USA does not have to be a world superpower, It can be efficiently managed as a much smaller country that has entrepreneurial citizens that support it's foundation. Everything depends on the players themselves and how they decide to shape the political map of the game.
Work for the good of your country and see it rise to an empire.
Activities in this game are divided into several modules. First is the economy as a citizen in a country of your choice you must work to earn money, which you will get to spend for example, on food or purchase of weapons which are critical for your progress as a fighter. You will work in either private companies which are owned by players or government companies which are owned by the state. After progressing in the game you will finally get the opportunity to set up your own business and hire other players. If it prospers, we can even change it into a joint-stock company and enter the stock market and get even more money in this way.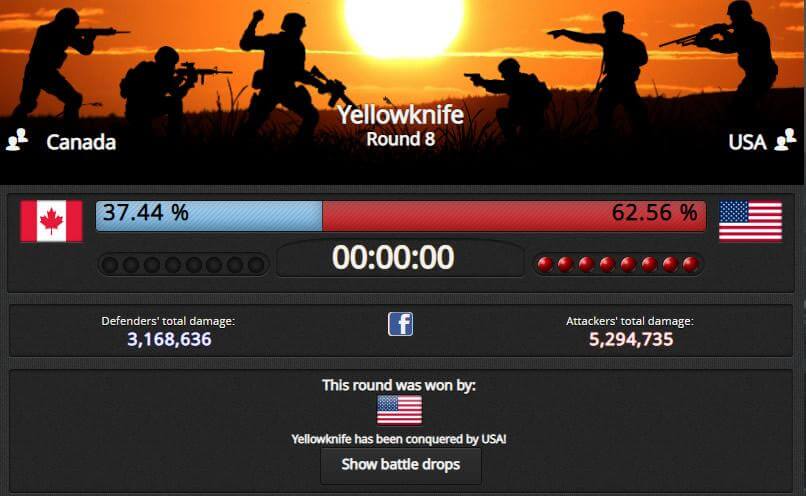 In E-Sim, international wars are nothing out of the ordinary.
"E-Sim is one of the most unique browser games out there"
Become an influential politician.
The second module is a politics. Just like in real life politics in E-Sim are an extremely powerful tool that can be used for your own purposes. From time to time there are elections in the game in which you will not only vote, but also have the ability to run for the head of the party you're in. You can also apply for congress, where once elected you will be given the right to vote on laws proposed by your fellow congress members or your president and propose laws yourself. Voting on laws is important for your country as it can shape the lives of those around you. You can also try to become the head of a given party, and even take part in presidential elections and decide on the shape of the foreign policy of a given state (for example, who to declare war on). Career in politics is obviously not easy and in order to succeed in it, you have to have a good plan and compete for the votes of voters.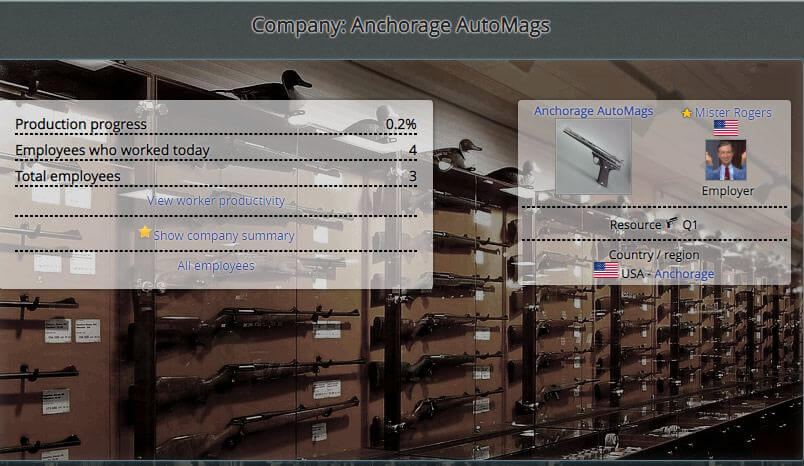 You can go bankrupt or become a rich man while playing the stock market.
The international war.
The last and probably the most important module is military. In E-Sim, countries are constantly fighting each other for control over territories which in return grant them access to more valuable raw materials. For this purpose, they form alliances, they fight international wars, but they also have to deal with, for example, uprisings in conquered countries or civil wars, which may explode on their territory. You can also take part in these clashes, although you are also given the opportunity to lead a life as a pacifist who focuses on other activities in the game (for example, running a successful newspaper or selling products).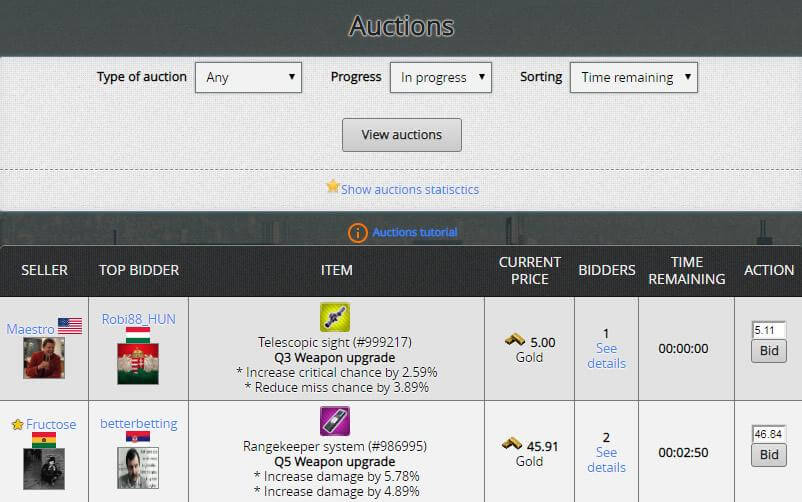 At the auction you can sell or buy your dream inventory.
E-Sim is a unique browser game. It's creators ensured realistic representation of the mechanisms present in the real world and gave all power to the players who shape the image of the virtual Earth according to their own. So come and join them and help your country achieve its full potential.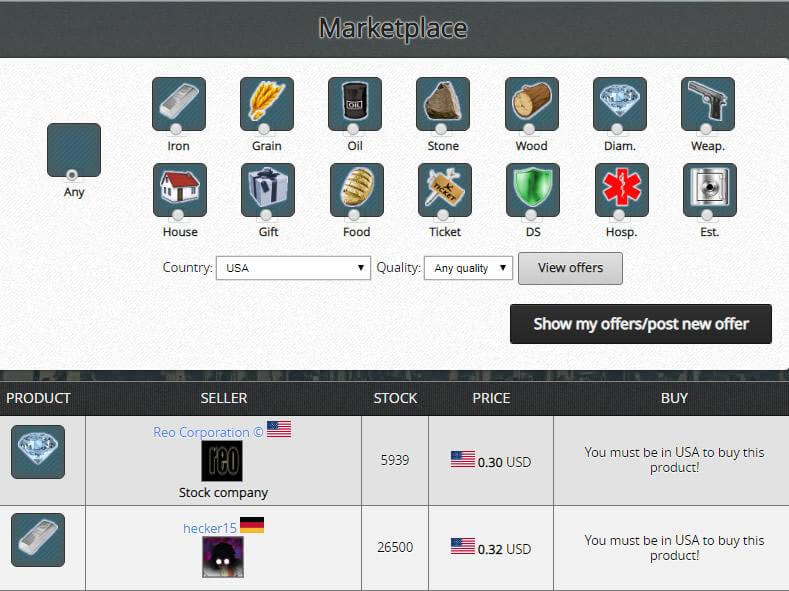 Invest, produce and sell - be an entrepreneur in E-Sim.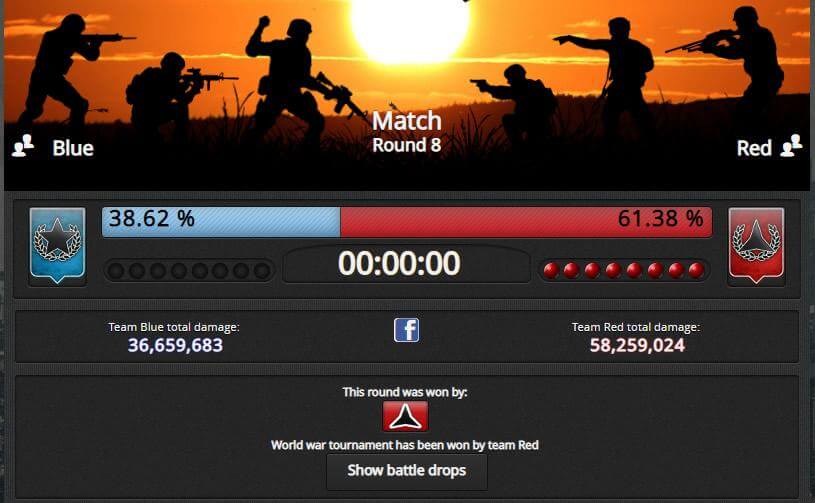 Take part in numerous events for the E-Sim community.